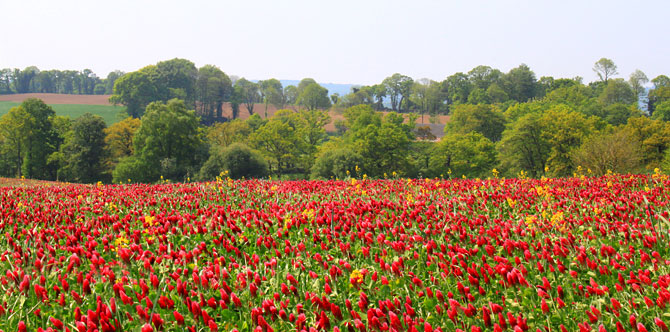 The location of our luxury gites in Brittany
---
Our two stylish Brittany holiday cottages are situated in the beautiful countryside of the Scorff valley in the Morbihan region of Brittany. Guests staying here have found it to be a great base for exploring and discovering the many attractions that Brittany has to offer.
The nearest village of Langoelan is only 3 minutes drive - or an easy cycle/walk - where there are 2 restaurants - a handy pizzeria and a classy French Bistro, serving excellent local cuisine at very reasonable prices. The village also has a small shop for basic provisions (order your fresh croissants for the next morning!) and beautiful Lake - Etang Du Dordu. There are a few swings, a slide and obstacles for the younger ones to clamber over, a small café (end May to end Sept.) for a coffee or cold beer, and a board-walk nature reserve attracting many wetland birds and other interesting wildlife. Enjoy fishing on the lake or simply take a stroll or cycle around its shores.


Luxury holiday rentals Nr. Guemene-sur-Scorff
Guemene-sur-Scorff, a pretty medieval village with ancient houses, steep streets, Roman bath and ruined Chateau right in the heart of town and is just a 10 minute drive from Brittany Spa Cottages. This is a lively village with a number of shops, bars and boulangeries plus pharmacies, banks, doctors, news-agents, grocers and an excellent tourist office. There are also a number of restaurants in Guemene and one of our (and our guests) favorites is the Aux Sabots Rouges, and the quirky Celtic bar opposite which often has live music evenings throughout the year. Click here for more details.

There is also a large Intermarche supermarket just on the edge of town. The village is also host to many fairs and festivals throughout the year, including a huge carnival every 2 years, an annual town boot/stall fair, and free music festivals.


Cottages near Pontivy
Pontivy is a large attractive town, 25 minutes drive from our holiday gites. Here where flower adorned bridges crisscross the Nantes-Brest Canal, you will find a town with two distinct parts:
A medieval sector with half timbered buildings and narrow, twisting cobbled streets and the beautiful chateau des Rohan whose origins date back to 1479. Then there is the Imperial sector, with straight, stately avenues & buildings created on the orders of Napoleon who aimed to make Pontivy a great military base. For a while Pontivy was known as Napoleonville!
Pontivy has many excellent shops and restaurants and two large supermarkets on either side of town. With Nantes-Brest Canal running right through the town it's a pretty place to sit and watch the canal-boating activities; or even hire a canoe and paddle off down the canal to visit one of the many picturesque canal-side villages like St. Nicholas-des-Eaux.

For more detailed information on activities and site seeing in Southern Brittany please visit our Attractions and activities page


Nearest beach and swimming at the Lac de Guerledan
Lac de Guerledan, just a 20 minute drive, is a huge and stunning lake stretching for 12km and surrounded by the beautiful forest of Quenecan; which has many scenic trails for walking, hiking and mountain biking. Click here to learn more about these activities. The Lac de Guerledan was created in the 1930's when the valley was flooded following the construction of an enormous dam and hydro-electric plant across the Blavet River. Nowadays it's a popular centre for all sorts of boating activities and water sports. Though it is thankfully quite peaceful out of main season and largely unspoilt. Either side of the lake lie a couple of small sandy beaches with good lakeside restaurants / bars.

The Abbaye de Bon Repos, at the far westerly end of the lake, should not to be missed! The origins of this partially ruined abbey date back to the 12th century and the later editions, from the 18th century, are gradually being restored. A Sunday market is held there from May to October. This has around 20-30 stalls featuring local produce and Artisan crafts. It's great to take in a Sunday morning there, taking in the chilled atmosphere whilst sipping a coffee, glass of wine or beer at one of the pubs or bars there. In August there is an amazing Light and Sound festival at Bon Repos ( 4-5 evenings) which can be booked online. This focuses on the history of the Abbey and area, and is full of medieval re-enactments with hundreds of performers and volunteers, and amazing pyrotechnics and light shows!


Walking and cycling holidays in Brittany
There are countless way marked walking trails and cycle routes in Brittany, and our location, here the beautiful Scorff valley, is just perfect for both of these activities. A quick visit to many of the local village Mairie's (mayor's) office will provide you with details of what walks are best locally in that area. We have 4 adult bikes here for use free of charge, bring your own helmet. In your luxury cottage you will find detailed maps and guides to help you choose your adventure for the day! Pictured is the stunning Lac de Guerledan, within easy 20 minutes reach of our luxury Brittany cottages.

For more detailed information on cycling, walking and other activities in Brittany, please see our Attractions and activities page


Magical Morbihan
The Morbihan Department of Brittany has the mildest climate of all its regions, with many sunny winter days and very few frosts - allowing us to grow fabulous plants! The landscape is a mixture of lush wooded valleys, rolling green pasture, stunning estuaries, picturesque ports and is dotted with lovely medieval villages and towns. The historic town of Vannes sits at the mouth of the stunning Gulf du Morbihan, with a beautiful old quarter full of interesting shops, restaurants, many characterful half timbered buildings and a twice weekly market (with amazing seafood hall!), which is one of the best in Brittany. It goes without saying that surrounded by sea on three sides, the entire region is a seafood lovers paradise!


The Golfe de Morbihan
No visit to Southern Brittany would be complete without at least one visit to this Island speckled inland sea. Visit some of the many picturesque ports, take a boat trip around the Golfe stopping off at pretty islands along the way, walk the stunning coastal paths, or just dip into the warm clear waters for a swim. Throughout the year there are many festivals, fairs and open-air concerts to enjoy.


Brittany Spa Cottages is well situated to visit beautiful beaches both on the South and North coasts of Brittany;

Nearest coastal beaches are to be found at Le Pouldu, (a favourite) Port-Louis and Larmor Plage, all approximately 55 minutes drive. Port-Louis retains much of its charm and character with an imposing Citadel guarding the mouth of the rivers Scorff & Blavet.
Larmor Plage and Guidel plage are close to the town of Lorient, they offer huge expanses of golden sand and are very popular with families.


Wonderful wildlife at Brittany Spa cottages!
A lot of work has taken place to encourage as much wildlife as possible into the hamlet grounds; planting lots of nectar rich flowers to feed the butterflies and leaving wild areas of nettles for their larvae. Each year the reward is to have a huge range of butterfly visitors including; Peacocks, Commas, Brimstones, Red Admirals, Painted Lady's and this fabulous Swallowtail!